Danbury Mint / 1957 Ford Fairlane 500 Skyliner / 1:24th Scale
Dresden Blue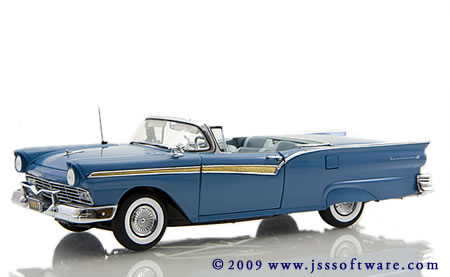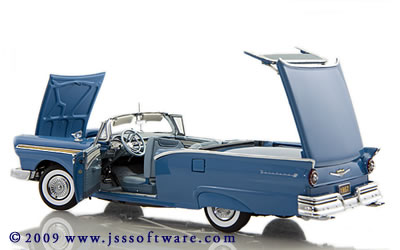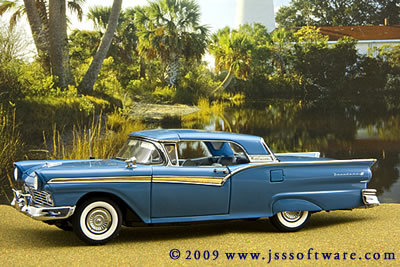 The Danbury Mint 1957 Ford Fairlane 500 Skyliner always amazed me as a kid, the first time I saw one of these transform itself into a convertible, I became mystified by it.
Remember this was 1957, and we have a hardtop that moves, as if by magic, into what appears to be the trunk. There were no computers to make this magic happen, it was done with hydraulics, and the Danbury Mint replicated those cylinders too.
To extract the top from its nesting place there is a button located on the underside of the model, simply press it in while gently while pressing down on the rear of the top and the front will pop up enough to gently coax it from its nest. I am assuming you know enough to open the rear lid first. When the top is in the up position it really pops and everything fits snuggly with no odd shut lines. I admire a well done interior, and the Skyliner interior is up to my expectations, for a Danbury Mint replica; it's gorgeous. The deal sealer, for me, is the drop dead gorgeous engine compartment, that alone makes it worth the price of admission. I highly recommend adding this model to your collection; it has it all, you won't be disappointed I assure you.
from "Ed's FoMoCo" Danbury & Franklin Mint Collection
The models in this exclusive Ford Motor Company collection were purchased directly from the Mints and placed into Danbury Mint 6 & 12 car enclosed display units, virtually airtight. They were adult owned from a pet-free & smoke-free household.

Since the models were properly displayed, the paint is virtually free of any humidity based rash.

Most models include papers (see below for exactly what is included).

The original boxes were properly stored and are in excellent to mint condition. Most FM boxes are bright white without postage.

Mint condition, beautiful paint, ready to display. Satisfaction Guaranteed!
Part #: DM1602M
Condition: Mint in the Box w/ Papers
Price: $0.00
Status: SOLD! Thanks Joe!