Danbury Mint / 1970 Plymouth 'Cuda / LIMITED EDITION OF 5000 / 1:24th Scale
Sassy Grass Green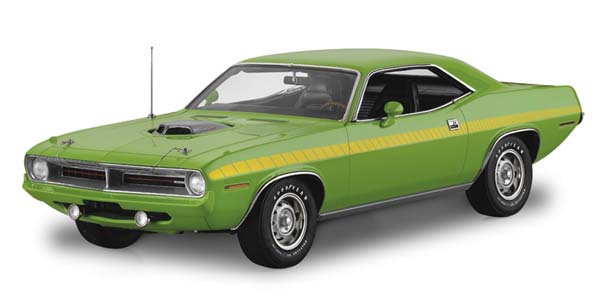 Truly the "Best of Show" goes to the Danbury Mint 1970 Plymouth 'Cuda 440/6­bbl Coupe; it is a classic.
The Cuda is painted the stunning "Sassy Grass" with a Chartruesse stripe, and a 440­6 bbl engine Supposedly only one 440­6 '70 Cuda was built with this color combo...very rare late year option. Fit, finish, detail the Danbury Mint replica has it all. Does this one belong on your list of "Must Have" models? A resounding yes; it is "Best of Show" in its class.
Part #: DM1614M
Condition:
Price: $0.00
Status: SOLD! Thanks Ron!