Danbury Mint / 1936 Packard V-12 Sport Phaeton / 1:24th Scale
Packard Blue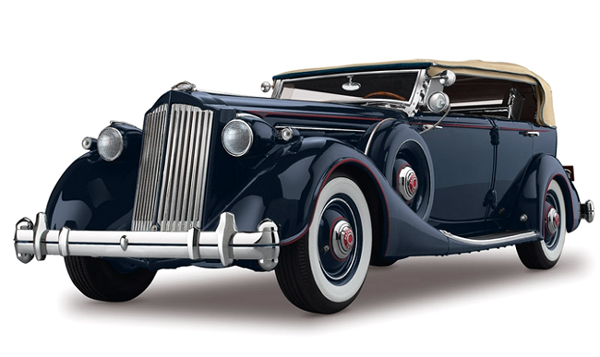 Scale 1:24; 9" in length.
A Stunning Replica of Packard's Finest Automobile

Back in 1936, 95% of all cars carried a sticker price of less than $750. But for those that wanted the best...an automobile classic for the ages...Packard offered one special model for the powerful and wealthy that stood head and shoulders above the rest, at an eye-popping cost of $4,490!

Fully half of Packard's employees worked on hand constructing the most stunning, most magnificent, most elegant Packard ever. Under the hood, the Packard Twelve's respected 175ph V-12 engine provided both an ultra-smooth ride and unmatched performance!

This dramatic, ALL NEW precision replica of Packard's last dual-cowl open touring car allows you to travel back in time and experience the magnificence of one of the most significant contributions to the Classic Car era.
Part #: DM1633M
Condition: Mint in the Box w/ title & care
Price: 0.00
Status: SOLD! Thanks Dan