Danbury Mint / 1968 Ford Mustang Cobra Jet - "Al Joniec's" SS/E / 1:24th Scale
White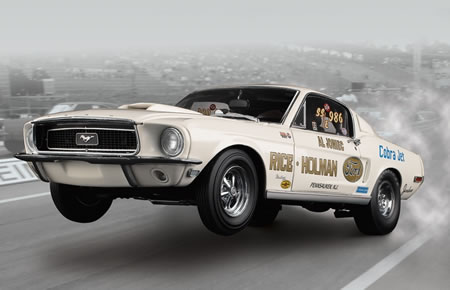 Scale 1:24; 7-1/2" in length.
According to Hot Rod magazine, "The Cobra Jet will be the utter delight of every Ford lover and the bane of all the rest because, quite frankly, it is probably the fastest regular production car ever built." The decision was made to debut the Cobra Jet where Ford could get the most bang for their buck, and take on the best the other manufacturers had to offer…the 1968 NHRA Winter Nationals!

Ford showed up at the Winter Nationals with a team of Wimbledon White Mustang fastbacks, all equipped with the brand new 428 Cobra Jet engine. One Mustang was entrusted to the skills of driver Al Joniec, and when the smoke cleared in the Super Stock Eliminator final, it was Joniec piloting his Cobra Jet to an astounding victory for Ford.

This exciting 1:24 scale replica, produced by GMP exclusively for the Danbury Mint, has all the bells-and-whistles of the original 2+2 fastback.

Vinny's Note: This local car campaigned out of the Rice & Holman Ford Dealership in Pennsauken, NJ and I saw it frequently at Atco Dragway. Badass!
from " The Evergreen Park" Danbury Mint Collection
The models in this collection are in near- mint / mint condition. They were purchased directly from Danbury Mint. Most were placed in enclosed, air tight display cases, and a few were placed in storage and never displayed.

Adult owned from a pet-free & smoke-free household.

Since the models were properly displayed or stored, the paint is glossy and rash-free.

Most models include titles or care instructions.

The overall condition of the boxes is very good.

Satisfaction Guaranteed or your money refunded!

Part #: DM1644M
Condition: Mint in the Box no Papers
Price: 179.00
Status: In Stock