Danbury Mint / 1959 Pontiac Bonneville - Convertible / Preview Society / 1:24th Scale
Cameo Ivory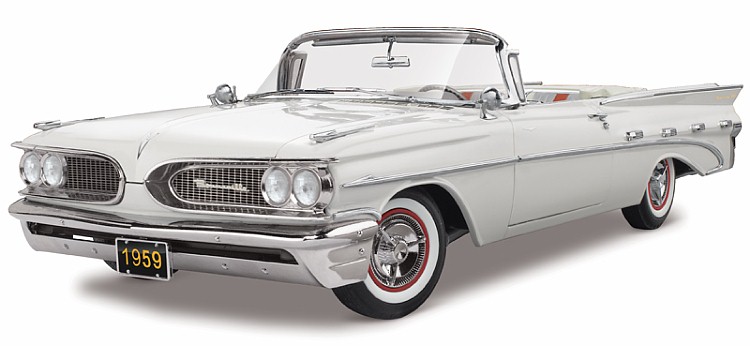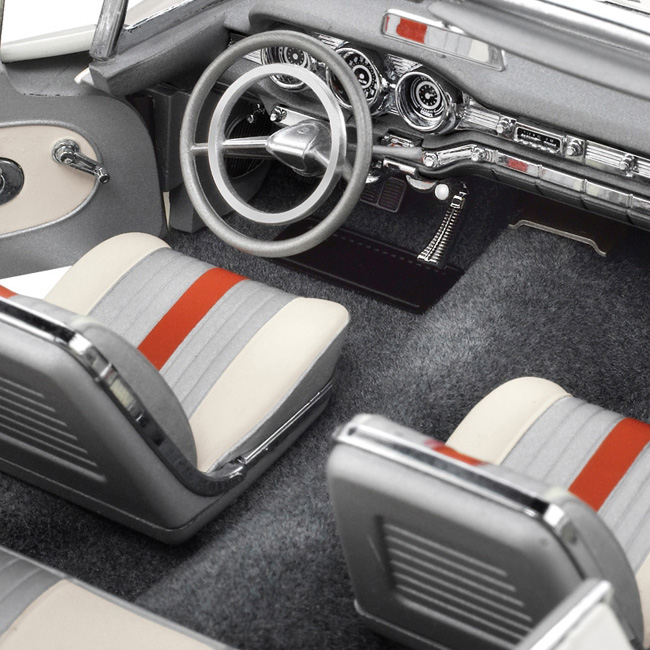 The texture of the top-grade Morrokide-accented leather front bucket seats and the pattern of the distinctive pleating will bring you back to 1959.
Wonderfully true-to-life, the remarkably detailed engine features a removable air cleaner, all the better to see the trio of throaty two-barrel carburetors.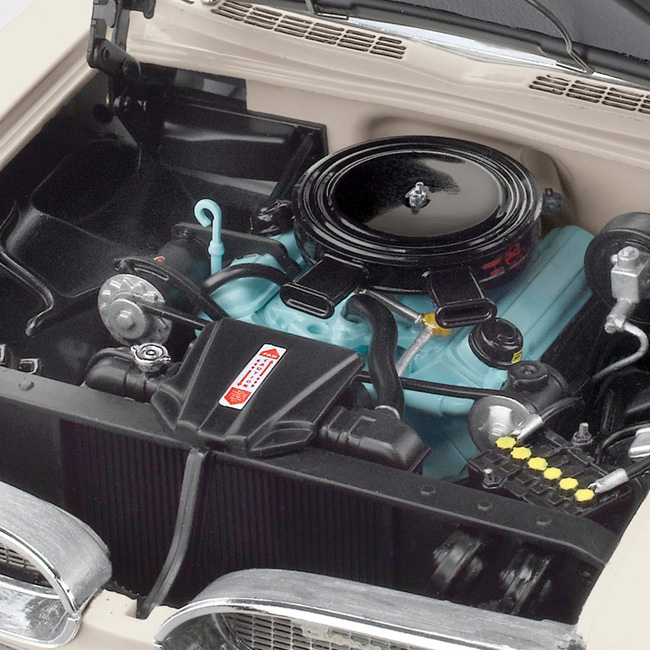 Scale 1:24; 9-1/2" in length
Pontiac was facing a triple threat in 1959: a stodgy, conservative image, a downturn in sales, and sleek, seductive styling from cross-town rivals. GM's designers and marketers reacted to these challenges brilliantly with the incredible new lower and longer Bonneville. The first of the"Wide-Track" Pontiacs offered drivers a wider stance and lower center of gravity for a smoother ride, especially when cornering. And under the hood another Poncho first – the premier appearance of the famed 389 V-8. This "Tempest 420" powerplant sporting triple two-barrel carbs was good for 315hp. Combined with the "Wide Track" stance, it sent the Bonneville rocketing down the road with authority.
from the "The Las Vegas" No Rash Danbury Mint Collection
This storage or briefly displayed collection was purchased directly from The Danbury Mint & most boxes were only opened for inspection, then stored never displayed.

Most models I inspected are Tier 1 or Tier 2 condition - New Old Stock (NOS Mint in the Box) , a few were covered displayed Tier 2 no dust ( excellent )

Like-new paint as delivered from Danbury Mint. No rash from dry Las Vegas!

Danbury Title and Care Instructions included with most models

Mint -Excellent condition original boxes with no writing on end flap.

This is a bought- then- stored Danbury Mint collection. You won't be disappointed! LV523
Part #: DM1646M
Condition: #1 New in Box w/ title & care
ALL ACRYLICS & EMBLEMS INTACT
Price: 275.00
Status: In Stock