Danbury Mint / 1955 Studebaker President Speedster / Limited Edition 5,000 / 1:24th Scale
Hialeah Green & Sun Valley Yellow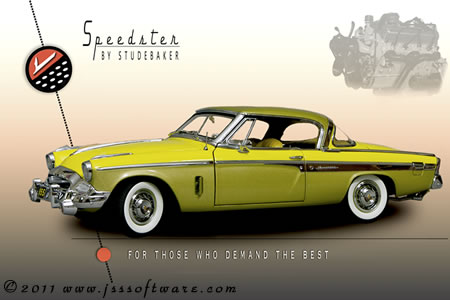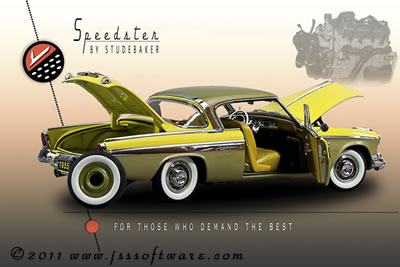 Did someone say Studebaker? How about a President Speedster in 1:24th scale. If this automobile "Popped your cork" then you need to add the Danbury replica to the shelve; it's a winner. The Danbury Mint replica is nicely done and limited to 5000 units, fit, finish are all spot on and the shut lines are tight and straight. If you plan on adding a Studebaker to your collection take a closer look at this one; you won't regret it. Be sure to lift the hood and take in the Passmaster V-8, the 185-hp was no speed demon but again Danbury did an outstanding job replicating the slick V-8, everything is in there, hoses, wires you name it, it got it. Beautiful! Be sure to check out the tachometer and speedometer, in the Danbury replica; there is an 8000-rpm tachometer and a 160-mph speedometer. Now that is attention to detail.
from the "Darby Estate" Danbury Mint Collection
The majority of this Darby, Pa. collection was purchased directly from Danbury Mint and placed in climate-controlled, spare room storage. Most models were never removed from the original box, never displayed, dust-free.

The paint finish is mint without any humidity-based paint rash.

Most of the models DO NOT include any paperwork.

Mint condition original boxes, most without any writing or shelf wear.

Most models have door, hood & trunk protectors, interior foam blocks and protective tissue inside the styrofoam.

All photo-etched emblems are intact, most with protective acrylics.

We proudly present this exceptional collection to you, Satisfaction Guaranteed! We're confident that once you purchase one, you'll want to come back for more!
Part #: DM1654M
Condition: Mint in the Box, No Papers
Price: $495.00
Status: In Stock