Danbury Mint / 1956 Ford Fairlane Victoria / Limited Edition 5,000 / 1:24th Scale
Mandarin Orange & Colonial White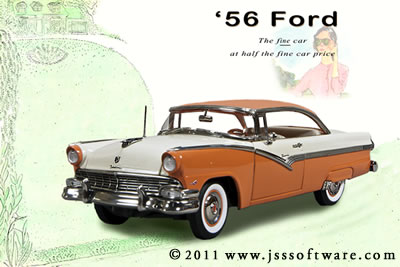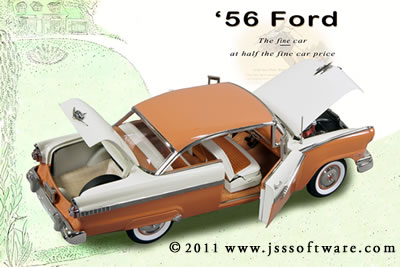 The Danbury Mint really stepped up to the plate with their 'New and improved 1956 Ford Fairlane Victoria; this is not simply another re-paint this time around; the tool has been re-worked and it shows. Gone is the Connie kit found on the old Sunliner and the chrome issues have been addressed, and if you ask me this is the best of the bunch, especially in this color combination.
The model is a "Limited Edition" of 5000 pieces Worldwide. Sporting many working features, such as opening hood, trunk, doors, folding seat backs and functional steering just to name a few, it will have you reliving the past as this model is very easy on the eyes. The chrome is just magnificent, nice and tight to the body, aligns perfectly, it really makes this model pop.
When it comes to interiors nobody, and I do mean nobody, does an interior with such minute detail as does the Danbury Mint. I can tell you in all honesty that there isn't a thing about this model that looks toy like. When Danbury Mint calls their models "Museum Quality" they really are. No cheap looking plastic seats or steering wheels to big that they are sitting on the seats; these models are done right. I am equally impressed with the dimensional looking instrument clusters found in their models. Some of the best dashboards found the die cast market can be found on a Danbury Mint replica. This mint doesn't simply slap a sticker on the dash to simulate a speedometer, they use a printing process that gives the gauges a 3-D look, I consider them to be one of the most realistic on the market, be sure to check it out; this one is exceptional.
And let's not forget the 1956 Ford Fairlane Victoria came equipped with a Thunderbird Engine too. Lifting the hood you will be equally impressed by the amount of detail afforded the engine compartment also, nothing cheap in there either. And of course emblazoned on the valve covers is the infamous Thunderbird V8 logo just as you would expect. So if you have room for only one '56 Ford in your collection I assure you this is it. Buy it today, thank me tomorrow; this one will be sought after for years to come, I'm sure.
Part #: DM1655M
Condition:
Price: $0.00
Status: Out of Stock