Danbury Mint / 1935 Ford Pickup Vintage Hot Rod / 1:24th Scale
Red Oxide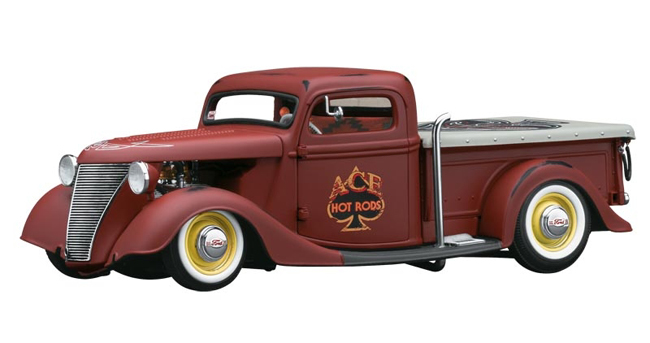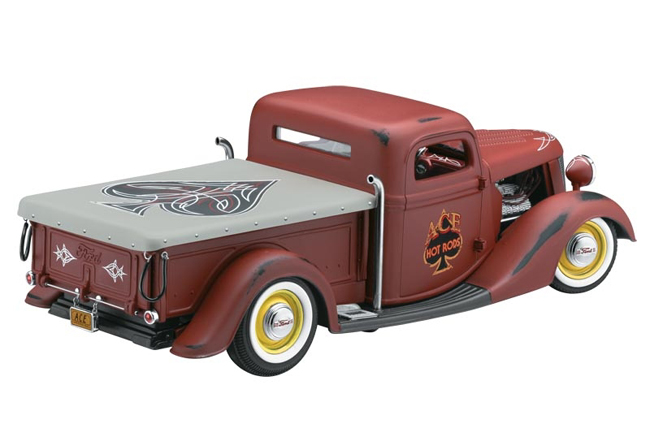 Scale 1:24; 7-1/8" in length.
"Ace Hot Rods" could be any small garage located off any main drag of any rural town. It doesn't matter where – what matters is the work they do. They can turn a worn out automobile into a chopped and dropped, screeching hot rod. Their latest creation – a slick pickup for company use.
The guys at Ace chopped the top and lowered the stance providing a bolder look. A set of whitewall tires and solid steel wheels were added…just to give it some color. The door panels are long gone and a southwestern blanket covers the tattered seat. Take a look at the weathered pickup bed…home to a new aluminum fuel tank. The stock engine was replaced with a hopped-up triple-carb flathead engine – the traditional hot rodder's favorite – backed up with a smokestack exhaust system installed behind the cab. And don't ask what color it's going to be when it's done…it is done!
from the "Ohio Bob" Danbury Mint Collection
According to the seller, and in our opinion after inspection, these models were purchased directly from Danbury Mint and placed on display in a glass cabinet. They were adult owned and never played with, from a pet-free household.

This collection required Vinny & Nicole to perform light detailing to bring the models to near-mint condition. Since the paint finish was not subjected to improper storage (in their boxes), the paint is virtually rash-free!

Most models include title with original owner's name and/or care instructions.

This is an original-owner, first generation collection that is priced to sell.
Part #: DM1801M
Condition: Near-Mint in the Box w/ Papers
Price: $350.00
ClearancePrice: $315.00 (Save 10%)
Status: In Stock