Franklin Mint / 1933 Duesenberg J Convertible Victoria / Limited Edition 1,500 / 1:24th Scale
Burgundy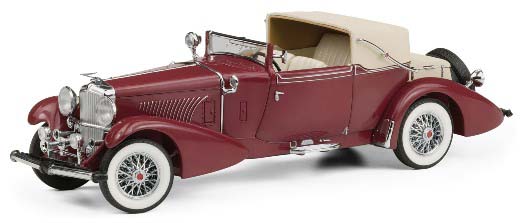 A bold statement of luxury and grand touring, this custom-bodied Duesenberg was the hit of the Paris Salon when it first appeared in 1932. Often the car of choice among the Hollywood elite, Duesenbergs represented the finest in American cars. Trimmed with high-contrasting ivory interior against royal metallic luster red paint, this stunning Duesenberg is the pinnacle of automotive art and fashion.

As with all great cars, there are always great stories. For Duesenberg, there are not only great stories but personalities associated with one of the finest automobiles of the 20th century. These stories remind us of the magnificence of the designers, builders and patrons of these fine cars.

In 1932, all of France was stunned as the special-bodied Fernandez and Darrin Duesenberg appeared at the Paris Salon. Fernandez had been a well-known coachbuilder with European designs to his credit, and Howard "Dutch" Darrin had made significant inroads in both U.S. and European markets with his firm, Hibbard and Darrin. In 1931, Darrin dissolved his partnership with Hibbard and began working with Fernandez. One of their first major European contributions to the world of coachbuilt automobiles was built on a stunning, long-wheelbase 1932 Duesenberg Model J chassis.

Resplendent in metallic red with contrasting ivory interior trim and featuring an elegant three-position landau roof, this Duesenberg would later be made in two (perhaps three) otherconfigurations from 1932 through 1933. At some point in the history of these rare cars, a two-toned blue and black car became attributed to movie star Greta Garbo. Although she persisted in denying this, the legend of the Garbo Duesenberg continued as part of the mystique of this illusive actress. Some speculated that her denial of the car was due in part to not wanting to be recognized as she was driven in it. The Garbo mystery could very well be due in part to her friendship with French film star Suzy Vernon, who owned and was pictured many times with the blue and black Model J Duesenberg known as the "Garbo." Some speculate that this is how the legend began.

Today, both cars are regarded as some of the finest coachbuilt cars ever built upon a Duesenberg chassis. The original Paris Salon car has been fully restored to original condition and is currently in a private collection. The Franklin Mint is proud to present the original Paris Salon 1933 Duesenberg Model J Victoria with coachwork by Fernandez and Darrin just as it appeared in 1932 in its original paint and trim scheme.

Part #: F674
Condition:
Price: $0.00
Status: Out of Stock