Franklin Mint / 1966 Shelby Cobra 427 S/C Aluminum Body / Limited Edition 1,500 / FM Discontinued / 1:24th Scale
Black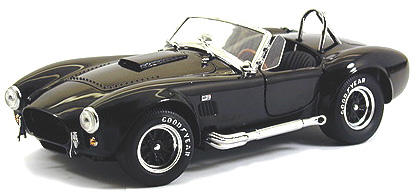 This is the same model, with two major exceptions, as the bare aluminum version issued 8/2001 - our code YF 05. Fabricated in actual aluminum, this model sports a classy, shiny black coat. That difference alone transforms the muscular sports car in racing livery into a wholly different image. Like seeing a highly trained athlete step off the playing field and into a tuxedo, the model takes on a more sophistiated air. The other major change is that FM has limited the availability of this iteration to only 1500 numbered pieces.
Although the same features are here, as in the aluminum model, slight nuances are evident. The bumperettes are now chrome instead of black and so, too, are the side exhausts. I would have liked to see that alteration carried to fruition by switching the wheels to a more suitable magnesium, silver-look, but they retain the black color of the #98 car.
The trunk reveals a limited edition plate stamped with the edition number instead of the previously handwritten edition numbers. It reads: Shelby Cobra 427 S/C Limited Edition. Overall, the replica is beautiful, a must have for the Cobra fan and ranking, to my mind, as 4 1/2 stars.
Part #: B822
Condition:
Price: $0.00
Status: SOLD! Thanks David!