Franklin Mint / 1947 Bentley Mark VI w/ Franay Coachwork / Independent Retailer Ltd. Ed. 750 / FM Discontinued / 1:24th Scale
Black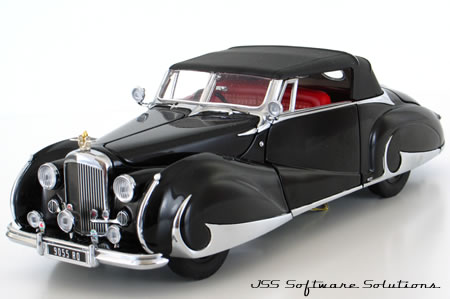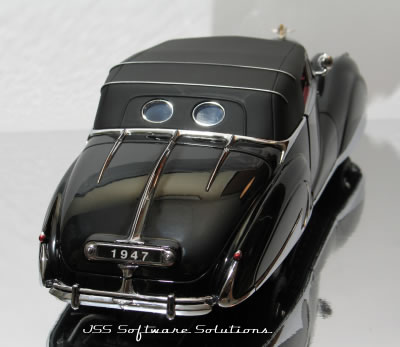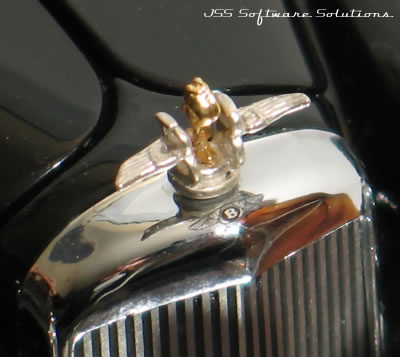 The 1947 Bentley Mark VI with Franay Coachwork "Mr. Zippity Do Da" is number four in the Limited Edition series collection offered by the Tinder Box chain.
Luxury was its hallmark. Winning its destiny. Fifty years ago, a very special Bentley Mark VI was commissioned with a single goal in mind: to win the Concours d'Elegance. And it did. Then, decades later, when it was restored to its former grandeur, the Franay Bentley went on to capture 27 major awards, including First in Class and the French Cup at the Ultimate American Concours d'legance in Pebble Beach.
No car in the world can claim the unabashed luxury and flamboyance of the 1947 Bentley Mark VI with Franay Coachwork. Designed to turn heads, stop hearts and make all who saw it yearn to possess it. Crafted with the most opulent and extravagant materials.
Now that legendary luxury car can be yours, in this precision model of the 1947 Mark VI. This special edition in 1:24 scale features a gold plated custom radiator mascot designed and created by the owner of the real car ­ only 750 of these cars adorning this special mascot will ever be produced.
The Franklin Mint did an admirable job in recreating this classic automobile. The convertible top is a sight to behold; lift the top to reveal the most gorgeous red interior ever conceived. How about a multi­compartment trunk? Or, the flowing French curves of chrome meant to portray waves on the ocean?
To claim it&rsquio;s a perfect recreation would be stretching it. However, it could have been with a few minor additions. The most noticeable would have been the addition of glass to the wing windows. The Bentley includes an up top and boot, allowing you to pose it however you desire. Personally, I prefer it top up, it looks classier and that was what this automobile was all about, class.
The paint is glass like, and the stunning chrome trim fits extremely tight to the body. The chrome flows like a wave on the ocean precisely with the model. The interior is also very well recreated and looks rather eloquent. It includes a rear jump seat and bar.
Each model is individually numbered including a plate located inside of the trunk denoting the model number in the run. Also, the replicas undercarriage was reworked to include a body stamp for "Zippy Do-Da". Thus separating this replica from the original ''47 Bentley along with its unique ornament.
Part #: E152
Condition: New in the Box w/ papers
Serial #539/750
Price: 0.00
Status: SOLD! Thanks Frank