Franklin Mint / 2002 Harley-Davidson VRSCA V-Rod / 1:10th Scale
Silver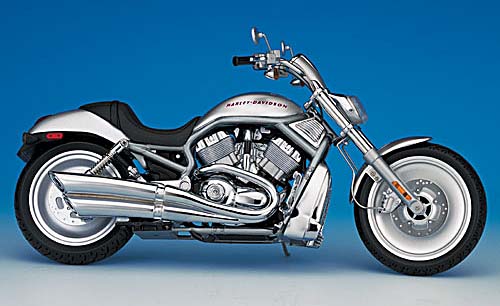 It's a whole new breed of Harley®. A combination of the long, low-slung lines of the dragster with the power of the 1130 cc Revolution™ engine, the awesome, audacious V-Rod® can by yours in the form of this sensational die-cast model. Hand-assembled from more than 125 separate parts. Authentic in every detail, from stretched wheelbase to sweeping double S-bend exhaust. Hand-painted and loaded with working features, it's a real eye-popper!

Style...performance...technology - three words that describe the new family of Harley-Davidson® motorcycles - the performance custom - pure "Harley-Davidson®" style!

The first of these new muscular motorcycles to roll out onto the street is the custom V-Rod.® At its heart is the powerful V-Twin Revolution™ engine, combining technology on the cutting edge - liquid cooling, 60-degree geometry, dual overhead cams and dramatic, jewel-like styling - that would be surprising if it weren't from such an innovative American company.

The engine pounds out an impressive 115 horsepower at 8,500 rpm, and keeping it cool - Harley-Davidson's® first widely acceptable street use of liquid-cooling, delivering optimum temperature control without sacrificing the elegant styling. A combination of rubber mounting and an internal counter balance also isolate the Revolution™ from the frame and delivers smooth power to an all-new transmission, which delivers 5-speed smooth-as-silk shifting, low noise and incredible durability.

The stylized 2-1-2 exhaust system features large volume capacity for the optimum in performance, while still meeting noise requirements. This baby delivers a distinct sound that Harley® owners will hear in their dreams, and friends will envy from the get-go!

It's a bold new beginning for a motorcycle poised to trounce all previous conceptions of the custom motorcycle. Your model gives new meaning to the word "custom," and it's one you'll own with wonder and pride for years to come. It's performance custom. It's V-Rod®!
Technical Specifications
Engine: Revolution-60º V-Twin

Horsepower: 115 HP @ 8,500 RPM

Displacement: 69 Cubic Inches

Bore & Stroke: 3.94 x 2.84 Inches

Front and Rear Brakes: Caliper Type Four-Piston Fuel System

Gear Box: 6-Speed

Wheelbase: 67.5 inches

Dry Weight: 595.7 Lbs.
Operating Features
Kickstand: The kickstand fully extends.

Wheels: The front and rear wheels roll freely and the front wheel assembly pivots on the frame at its mounting spot.

Drive Belt: The rear wheel is connected to the drive belt so that the belt rotates when the wheel rolls.

Foot Brake: Depressing the rear brake pedal will simulate application of the rear brake.

Gearshift: The gearshift lever is located on the lower front kickstand side of the frame, and may be positioned.

Front/Rear Suspension: The front and rear pivot areas of the model have been fitted with small springs to simulate the strut travel experienced on the real motorcycle.
from the "Arizona Dave" Franklin Mint 1:10 Harley-Davidson Collection
The majority of Harleys from this collection were purchased directly from Franklin Mint.

Arizona Dave, a lifelong Harley-Davidson enthusiast, displayed his models in glass display cabinets. From a smoke/pet-FREE environment.

All motorcycles in this collection were inspected by Vinny for broken or missing parts to ensure PM Heritage Collection standards.

The glossy paint finish is rash-free from the dry climate of Arizona.

All but 4 models include a Certificate of Authenticity and/or collector's portfolio and hang tag.

Mint-excellent condition original boxes that show they were well cared for while in storage. Some were purchased from Gallery Stores.

This first generation collection was enthusiastically maintained by a Harley Davidson enthusiast.

Satisfaction Guaranteed!
Part #: B990
Condition: Mint in the Box w/ Papers
Price: 0.00
Status: Out of Stock