Franklin Mint / 1940 Ford Pickup - 2009 Christmas / Limited Edition 1,000 / FM DISCONTINUED / 1:24th Scale
Red & Creme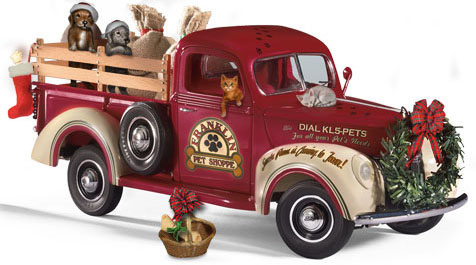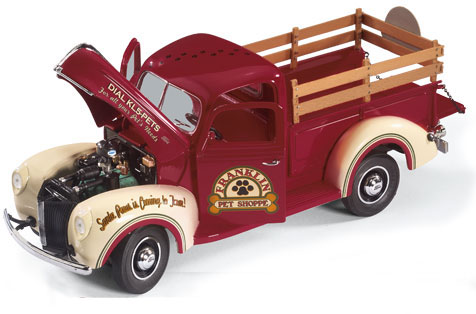 'Twas the night before Christmas and all through the town, every creature was waiting for Santa to come 'round. Because this year, Santa's hitting the road in a classic 1940 Ford Pickup from Franklin Pet Shoppe. And it's laden with holiday treats…plus a host of furry friends all geared up for holiday hijinks. Presenting the Franklin Mint Precision Models 2009 annual Christmas truck – a masterful 1:24 scale model richly painted in vintage holiday hues and assembled by hand from over 100 separate parts, including functional steering and wheels that turn.

It's the ultimate yuletide dream-come-true...awaking Christmas morning to discover a cuddly puppy or kitten snuggled in a bow-trimmed basket beneath the tree. No home or hearth should be without one! But with that particular gift on so many holiday wish lists, Santa is sure to need some help.

That's where the little elves at Franklin Pet Shoppe come in. As Santa's sleigh arcs overhead amid the stars above, the rumble of an engine breaks the silent night below. And the ultimate delivery vehicle – a classic 1940 Ford pickup truck – comes to life, loaded with a host of furry friends and decorated with vintage holiday charm.

In the bed of the truck, two precious pups in Santa caps peer over the bed rails. You can almost see their tails wagging as they envision their new home. Alongside them is a treasure trove of pet-themed treats – from burlap sacks of catnip and bones for all the good kittens and puppies to a stocking stuffed with rawhide bones hanging from the tailgate. A curious kitten hangs out the cab window while her friend takes a cat nap, curled up on the hood. Perhaps they're responsible for the tiny paw prints decorating the roof!

The truck itself is decorated with a bow-trimmed wreath hanging from the grille, not to mention festive holiday paint scheme and graphics heralding Franklin Pet Shoppe's holiday spirit.

Just like the classic Mom-and-Pop shops of small-town America, the Ford pickup is truly a part of the American landscape. In countless movies and vintage TV shows, as well as our own memories, it embodies the hardworking dependability of a time gone by. But, far from being just a workhorse, its classic lines and stylized curves make it an icon of automotive design...and the perfect canvas for The Franklin Mint's 2009 Annual Christmas Vehicle.

So, whether you're starting a new Christmas tradition or continuing a long-standing one, this special Limited Edition 1:24 scale model is sure to capture your imagination with its amazing attention to detail and precision-engineered parts. Just as the vintage theme is sure to warm your heart...like a cold, wet nose on an early Christmas morning!

Technical Specifications
Engine: V-8, L-Head

Displacement: 221 Cubic Inches

Horsepower: 85 HP @ 3800 RPM

Compression Ratio: 6.12:1

Induction System: 2 Barrel Carburetor

Transmission: 3-Speed Manual

Brakes: 4-Wheel Hydraulic

Overall Length: 183.74 Inches

Weight: 1/2 Ton

Operating Features
Steering: The front wheels may be positioned for display.

Doors: As on the original 1940 Ford Pickup, your model's doors are hinged at the front and open to a 45-degree angle.

Hood: Your model's hood is hinged and opens to about 45-degree angle.

Tailgate: As on a real Ford pickup truck, the tailgate is hinged, and opens to about 90 degrees.
Part #: F865
Condition:
Price: $0.00
Status: Out of Stock