Franklin Mint / 1968 Shelby Mustang GT500KR / Signed Limited Edition 3,500 / FM DISCONTINUED / 1:24th Scale
Highland "Bullitt" Green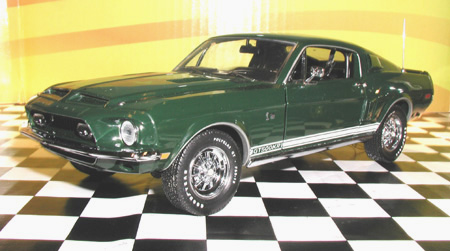 Image shown is a file photo, if you would like pictures of the actual car for sale, call 800-227-7301 or email your request.
Own the "King of the Road", signed on the trunk lid by racing legend, Carroll Shelby. The 1968 Shelby GT-500KR represents significant evolution from both Shelby and Ford. KR was designed for the demanding Cobra customer, and now over 3 decades later, Franklin Mint honors Carroll Shelby with a precision diecast of the legendary 500KR. Finished in Highland Green ( the same color as the equally famous Bullitt Mustang) with white GT side stripes. Hood, doors, trunk open with operable steering. Limited to 3,500 units, ORDER TODAY to avoid disappointment. (The 1965 signed Shelby GT350 has been sold out for years and now is almost impossible to find.)
from the "Baltimore Ed" FM-DM Collection
According to the seller and in our opinion after inspection, these models were purchased directly from Danbury Mint and Franklin Mint. They were opened for inspection only and then placed in DRY climate-controlled, spare room storage in their original boxes and were never displayed. No smoke or sun exposure, from a pet-free household.

Paint finish is like-new as delivered by FM and DM.

Most models include title with original owner's name or COA, and care instructions.

Mint to excellent condition original boxes with virtually no shelf wear that show they were well cared for. However, the end flaps have marker writing to identify the vehicle while Ed had them in storage.

Most models have door, hood & trunk protectors, interior foam blocks and protective tissue inside the styrofoam.

This is an original-owner, first generation collection which includes 65 Corvettes, 20 Chevy's, 28 Ford's, 20 Chrysler Corp., 18 General Motors, and 12 misc.
Part #: C586
Condition: Mint in the Box w/ Papers
Price: $295.00
ClearancePrice: $177.00 (Save 40%)
Status: In Stock