Franklin Mint / 1968 Ford Mustang GT Convertible / 2004 Diecast Club Limited Edition 9,900 / FM DISCONTINUED / 1:24th Scale
Lime Gold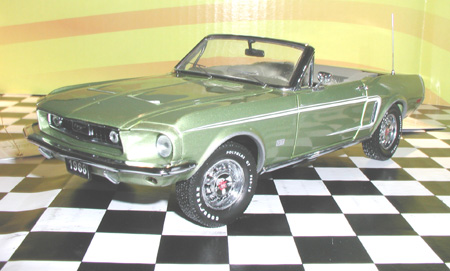 What a set of wheels! An extraordinary tribute to the world's first – and most famous – pony car. The 1968 Mustang combined the sophisticated styling of the finest European sports cars with the youthful exuberance of Ford's brave new world of automotive design. All combined in a dream car priced at just over $2,300. The 1968 Mustang came with the 390 ci, 320-hp big block engine – Ford's answer to the horsepower war that was raging at the height of the muscle era. Everything is here, from the pugnacious grille and long hood to the rear wheel scoops and concave taillights. Hand-assembled from over 175 parts and hand-finished in lively Lime Gold. Produced from new tooling developed exclusively for this model.
from the "James Dean" Franklin Mint Muscle Car Collection
Most of the models in this collection were purchased directly from a FM Gallery Store in Pittsburgh. The models were then placed into climate controlled bedroom storage.

The paint finish is like-new without any humidity-based paint rash.

All models include paperwork carefully filed in manila envelopes.

Most of the original boxes are in near-mint condition having been purchased directly from a gallery store without postage or USPS/UPS handling.

Most models have original protective material ie: tissue or acrylics (where applicable)

We proudly present this exceptional muscle car collection to you, Satisfaction Guaranteed! We're confident that once you purchase one, you'll want to come back for more!
Part #: D746
Condition: Mint in the Box w/ Papers
Price: 0.00
Status: SOLD! Thanks Tim