Franklin Mint / 1955 Pontiac Star Chief Custom Catalina / Ltd. Ed. 500 / 1:24th Scale
Red over Black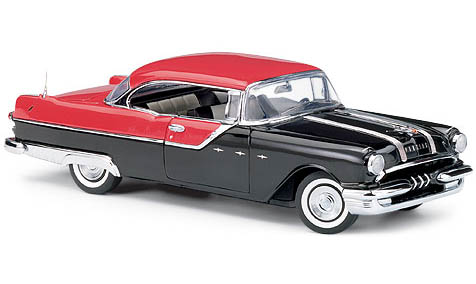 With the introduction of the Star Chief™ in 1955, Pontiac® shed its stodgy image-with a vengeance. It also disproved the old adage that beauty's only skin deep: for under that sexy, eye-catching two-tone paint scheme beat the heart of lion, in the form of the all-new "Strato-Streak" V-8 engine that produced 180hp and roared from 0-60 in 13.8 seconds.

Now, Franklin Mint Precision Models honors the legendary Star Chief™ as never before. And by acting now, you can choose one or both of the spectacular models featured here-one painted red on top and black on the bottom, the other black on top and red on the bottom…the very same option GM® offered customers back in '55!

Each is hand-assembled from more than 100 separate parts and each is packed with the authentic details that are the hallmarks of Franklin Mint Precision Models. Every detail of the powerful "Strato-Streak" V-8 stands out in lifelike clarity; the interior is matched perfectly to the original and such realistic working features as operable steering, functional suspension and doors, hood and trunk that open and close complete one awesome die-cast re-creation.
Part #: F072
Price: $0.00
Status: Out of Stock