GMP / Ford Fairlane "Scarelane II" / Limited Edition 996 / 1:18th Scale
Red Oxide/Flat Black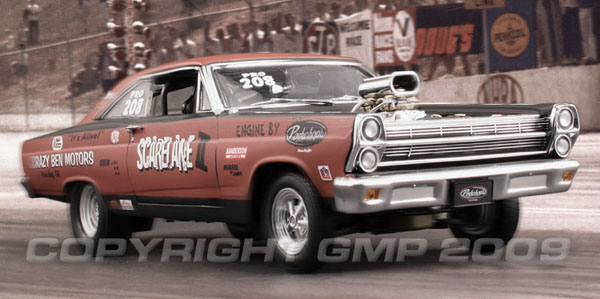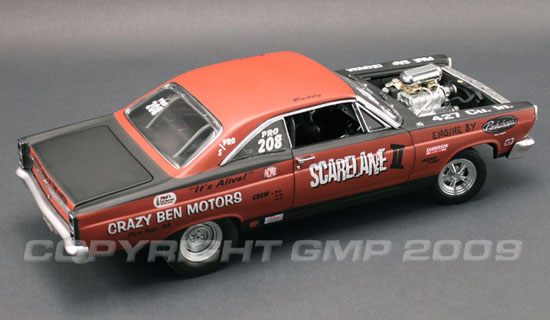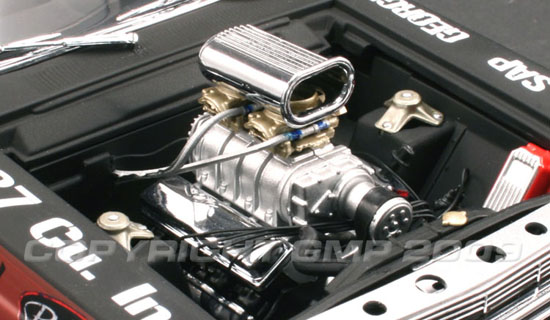 You might recall that ol' Pork Chop got locked up in the county jail a while back, muttering that he'd be back "quicker than a rat up a drain" as they carted him off.... Buddy's been running PC's shop pretty darn well since then, with the help of Crazy Ben's moonlighting.
Wouldn't ya know it, Buddy had the wild idea to pull the tarp off of one of PC's fastest, most ornery creations and rebuild it the way HE wanted to race it. Folks weren't so sure that was such a good idea...
FEATURES INCLUDE:
Supercharged 427 Cubic Inch Powerplant with Four Speed Manual Transmission

Plumbed, Wired, and Belted Engine

Chromed, Polished, and Aluminum Finished Engine components

Aluminum Finished Bumpers

Buddy's favorite: red oxide with flat black paint and race-day graphics

Slicks with Chrome Steelies out back and Cragar Five Spokes with Skinnies up front

Fuel Cell and Battery in Trunk

Racing Bucket Seats, Race Harnesses, Column Mounted Tachometer

Competition Roll Cage

Roll Up, Roll Down Front Windows

...AND MUCH MORE!
Part #: 1801123
Price: $0.00
Status: Out of Stock