GMP-Muscle Cars / 1992 Ford Mustang GT / Limited Edition 1,000 / 1:18th Scale
Dark Grey Metallic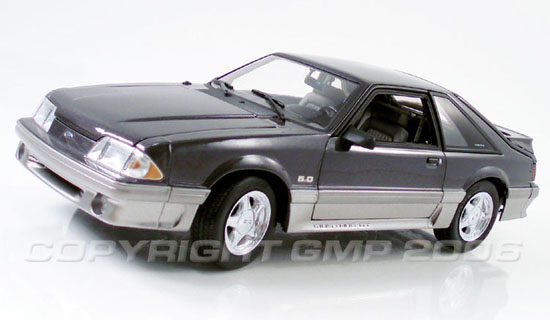 FEATURES:
16" Pony wheels and real rubber Z-rated tires, Metal Inlay (Photo Etch) emblems, Working front and rear suspension, Doors shut tight magnetically, Rear hatch opens with working hatch strut details.
Front hood opens and is held open with a metal prop rod, Metal hardware wire antenna, Fully detailed and plumbed A/C system, ignition wires, vacuum hoses, heater hoses, battery cables, radiator hoses, rubber serpentine belt, and a photo etch 5.0 H.O. intake manifold plaque.
Functional steering with the steering wheel, Articulated front bucket seats, Retractable front seat belts. Both front and rear seatbelts are real cloth with photo etch seat belt buckles.
Pivoting console armrest, Handbrake pulls up, Removable flocked front floor mats, Flocked front and hatch carpeting detail, Fully detailed front and rear suspension, Front and rear plumbed brake line hoses, Realistic texture painted chassis, realistically detailed dual exhaust system.
Part #: 1801818
Price: $0.00
Status: Out of Stock