GMP / 1987 Buick Regal Turbo Pro Stock "Tweaked" Drag Car / Limited Edition 3,500 / GMP DISCONTINUED / 1:18th Scale
Aqua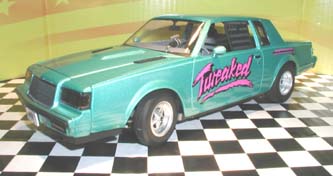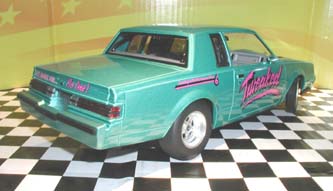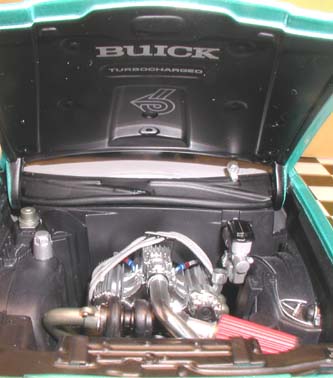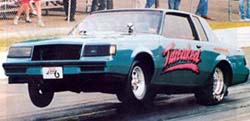 The phones have rung off the hook for this replica! You asked and we have granted your wish! GMP is sending the 1:18 Buick series out with a BANG! Nothing sounds like a good-running Turbo Buick moving full bore down the drag strip. While not initially accepted, their now unmistakable harmony of whoosh, whistle, and whine is as respected as the roar of a well-tuned small-block Chevy. The most popular 5.0 Mustangs got sent back to the stable when Lawrence Conley and "Tweaked" blasted onto the drag strip.

When the Buick guys hit the racetracks. Turbo Buicks began ruling the Muscle car Showdowns and the Gran Sport Nats. Lawrence Conley's "Tweaked" '83 Regal (with the '87 front clip) has run 9.90 at 135 mph with the mufflers in place. WOW! This makes it the fastest single turbo Buick in the country. Built in 120 days, "Tweaked" is basically a "good ole boys budget car" with the basics needed to go fast. The 1987 Buick V6 block, steel Carillo rods and the Weisco 9.2:1 pistons were bought used. The crank was then nitrided for durability. Thatís just a drop in the bucket to all the mods this monster acquired through the years. Lawrence got the weight of the car down to 3252 pounds with him on aboard by "lighten up" on the interior accommodations. Jaz, seats, super light custom door panels, no console or lighter and NO power functions helped put this Buick on a major diet plan! For safety Lawrence relies on the cage, and five-point belts and a window net.

Tweaked has had many face-lifts ! Not to mention changes of almost every internal facet for each event run. All this information even keeps Conley scratching his head at times.

GMP would love to produce a replica for every "Tweaked" version that has hit the drag strip! However, that is not possible. With the help of Lawrence Conley we will bring "Tweaked" to life in diecast in one version.
Part #: 8010
Condition:
Price: $0.00
Status: Out of Stock