GMP / 1970 Plymouth Hemi Road Runner Cvt. "One of One" / Limited Edition 1,448 / GMP Discontinued / 1:18th Scale
B-5 Blue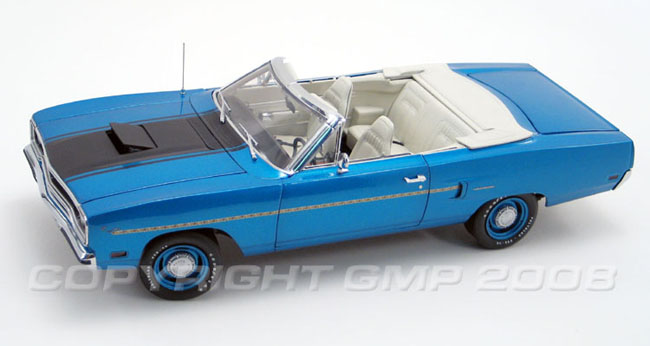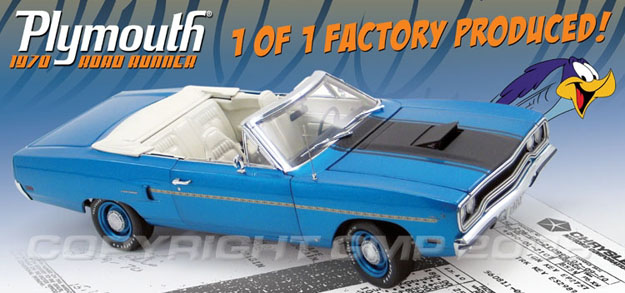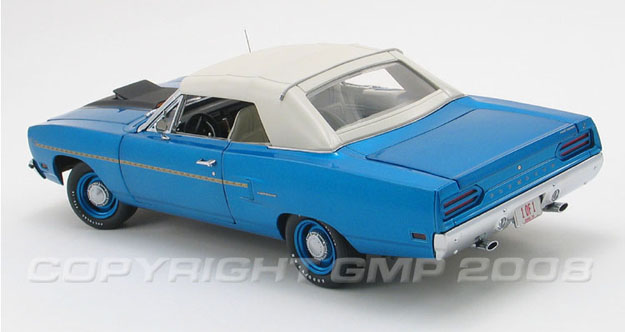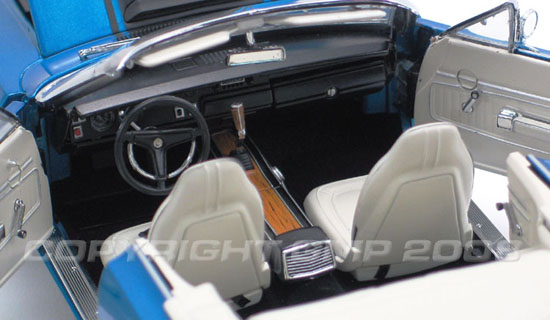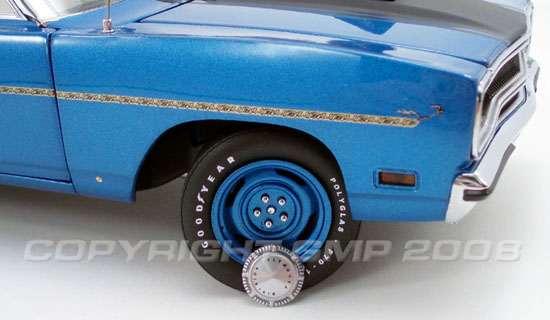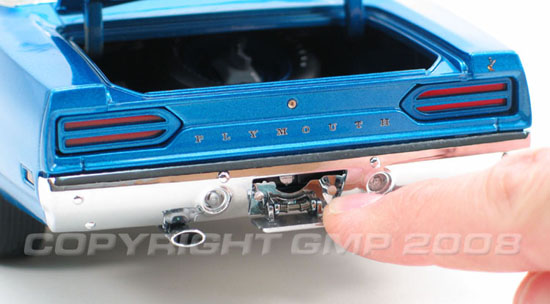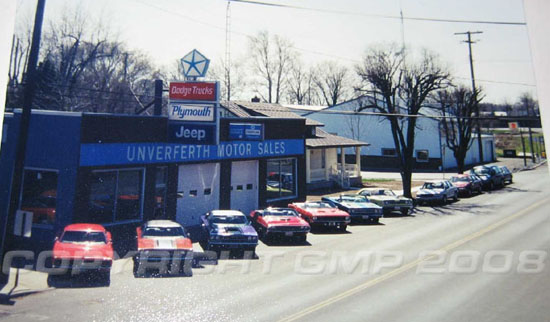 NO PICNIC BASKET IN THIS TRUNK....
this "One of One" Road Runner Hemi Convertible was
ALL BUSINESS!
TRUE STORY:
The REAL car was ordered new in 1970 by Daniel Roof of Glandorf, Ohio, upon his return from the military, from Unverferth Motor Sales in Kalida, Ohio. Mr. Roof wanted a ragtop RAGGED OUT for the STRIP!
He selected B-5 Blue with white buckets and white top.
Drivetrain combo: 426 cubic inch Hemi with manual 4-speed tranny and 3.54 Dana rear end, Road Runner Package including heavy duty suspension and Air Grabber Hood.
Options ordered: console, tinted windshield, tach, AM radio with dash speakers, performance hood paint and gold dust trail stripes. Standard decklid stripe deleted.
Wheels: 15" body-colored steel wheels with dog-dish hubcaps.
History: Dan drove the car as a daily driver and took it to the drag strip on weekends. After much enjoyment, he sold the car to the second owner three years later. While driving to Camp LeJeune, the new owner burnt a piston, so he left it at a repair shop. Upon his return, he found the engine, drivetrain, and Air Grabber Hood stripped from the car. He subsequently sold it to the third owner, Jerry Springer, who restored the car and got it back on the road in 1975. Unfortunately, one evening, the car caught fire in his driveway. When the fire was put out, the engine, hood, dash, windshield, and convertible top were destroyed. The car was sent to a metal scrap yard and crushed.
Note: This was the ONLY FACTORY 4 SPEED 1970 HEMI ROAD RUNNER CONVERTIBLE EVER BUILT AND SOLD!
Value at Barrett-Jackson Auction, 2022: inestimable!
from the "Chicago Mint New " GMP 1:18 Collection Condition 1
This storage find was opened for inspection only, boxes were opened for inspection & never removed from their styrofoam shell.

They were then stored in dry bedrooms.

Original tissue & protective packing materials are intact.

All models I inspected are Tier 1 condition New ( Tru-Mint in Box)

Since the models were properly stored the paint is glossy, dust free, NO RASH, like-new.

GMP never included care instructions, usually a registration post card.

Mint condition original boxes with sharp corners.

Tru-Mint Guaranteed or Your Money Refunded! Free return label if not completely satisfied. CMWAG
Part #: 1803114
Condition: #1 New in Box
Price: $395.00
Status: In Stock 9/20/22