GMP / 1970 Plymouth Supercharged Hemi Road Runner / Limited Edition 996 / 1:18th Scale
Hemi Orange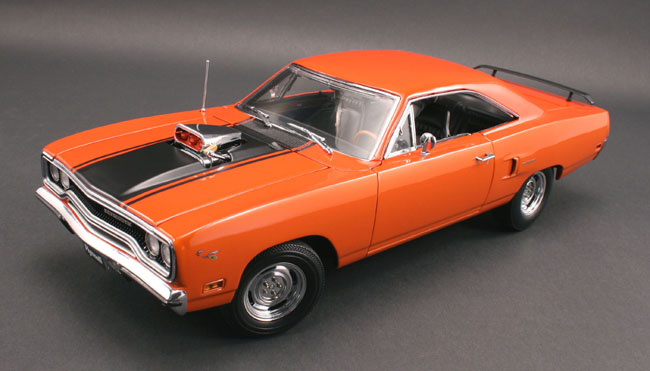 There's no better way to impose yourself on your fellow man on the street than with a Blown Injected Hemi. If you saw this big bad B-body rumblin' up next to ya at the red light, you better be bringin' something REALLY big to the party! When that light turns green, it doesn't mean GO... it means GET IN, SIT DOWN & HOLD ON!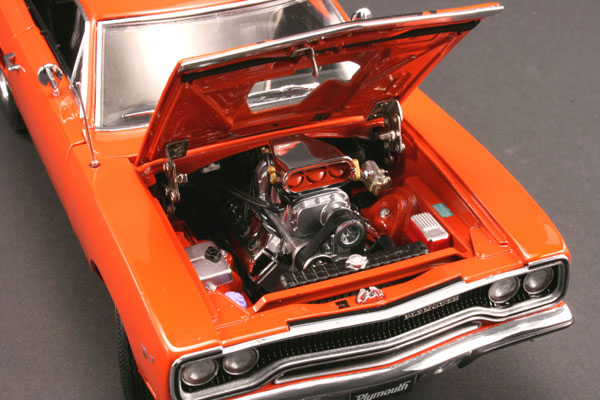 You're not lookin' at a trailer queen, either... this machine gets driven and driven HARD. Chrome steelies, slicks, no-nonsense black interior, and a nasty orange paint job, this Road Runner is ALL BUSINESS!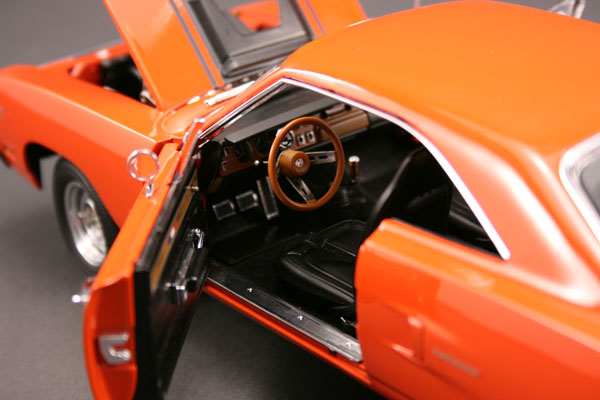 ...And what really turns up the wick on this animal is the all-aluminum 900+ horsepower 540 CID hemispherical heart thumping between the shock towers. Harnessing the rage to the rear hides is a race-prepped 4-speed manual and a heavy duty tried-and-true Dana 60. Now, what more could you ask for...
HEMI ROAD RUNNER FEATURES INCLUDE:
Blown & Injected 540 Cubic Inch Hemi Engine, Plumbed, Wired, and Detailed

Over 900 Horsepower to the Wheels

Four Speed HD Manual Transmission with Pistol Grip Floor Shifter

Dana 60 Rear End

Remote Trunk Mounted Battery Box

Tor Red (V2) Exterior Paint - known as HEMI ORANGE by the Dodge Boys!

Black Hood Stripe and Rear Trunk Lid Stripe

Trunk Mounted "Go Wing"

Chrome Reverse Steel Wheels with Blackwall Rear Slicks and Front Skinnies

Black Pivoting High Back Bucket Seat Interior with Flocked Carpeting

Cloth Seat Belts with Photo-etch Buckles

Deluxe Woodgrain Steering Wheel with Poseable Steering

Pistol Grip Shifter that Actually Moves

Hinged and Spring Loaded Rear License Plate revealing Gas Filler Tube

Real Steel Rear Leaf Springs

Working Front and Rear Suspension

Dumped Exhaust

Operating Front Windows and Cranks PLUS Pop-out Rear Windows

Detailed Undercarriage with Metal Fuel and Brake Lines

...and a whole lot more!
from the "Chicago Mint New " GMP 1:18 Collection Condition 1
This storage find was opened for inspection only, boxes were opened for inspection & never removed from their styrofoam shell.

They were then stored in dry bedrooms.

Original tissue & protective packing materials are intact.

All models I inspected are Tier 1 condition New ( Tru-Mint in Box)

Since the models were properly stored the paint is glossy, dust free, NO RASH, like-new.

GMP never included care instructions, usually a registration post card.

Mint condition original boxes with sharp corners.

Tru-Mint Guaranteed or Your Money Refunded! Free return label if not completely satisfied. CMWAG
Part #: 1803125
Condition: #1 New in Box
Price: $395.00
Status: In Stock 9/20/22