GMP / 1970 Pontiac GTO Judge Convertible / Limited Edition 3,500 / GMP Discontinued / 1:24th Scale
Orbit Orange w/ Black Top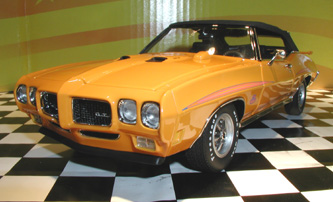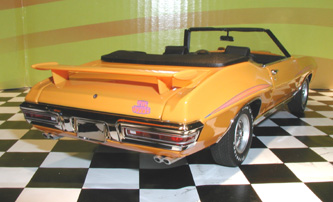 Images taken 3-27-04 by Vinny of GMP pre-release 1:24 prototype.
Click here for a high resolution interior and engine images.
Were it not for the fact that Franklin Mint has hundreds of 1:24 models , I would now rank GMP ahead of FM as the # 2 Classic American Muscle 1:24th scale diecast manufacturer on the strength of this image alone. And while it may not have all of Danbury's state of the art features, it's real close. ( To be fair, how long has DM been at it?) It is equal to or better than most of the older DM models and it is clearly superior to anything Franklin Mint has re-painted..... I mean released this year. Some of the improvements over their first 1:24, (the Buick Grand National which was a good start to their 1:24 program): This model clearly jumps at you when on display. The color, chrome trim, contrasting black interior, all add up to plenty of eye appeal. It's heavier than the GN. The seat belts look more realistic. The prototype that I had showed a flawless Orbit Orange finish. The doors snap tight with state of the art hinges, not the big dog legs. "Striker plates" on the door jambs help keep the doors shut tight. Engine compartment plumbed and wired correctly. Removable spare, floor mats ( delivered in trunk), nicely detailed chassis, bucket seat backs fold. Removable fabric top and boot. Sunvisors move. If Danbury is the standard (and they are) I gave the GMP 1:24 Grand National 7 out of 10. The new GMP 1970 GTO Judge scores 9 out of 10 in my opinion. This is a serious entry into precision 1:24 and don't think their competition won't notice. All I need to see for a perfect 10 is working suspension and realistic scissor hood hinges. Those minor issues aside, if you are a FM/DM muscle car collector, I don't see how you can pass this one up with only 3,500 produced. (Danbury's standard is 5,000 on their limited editions and they ALWAYS sell out.)...... Vinny
Part #: 8241
Condition:
Price: $0.00
Status: SOLD! Thanks Bob!