GMP / 1969 Mercury Cyclone Spoiler II / Dan Gurney Special / Limited Edition 3,450 / 1:24th Scale
White w/ Blue Trim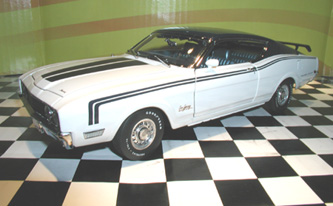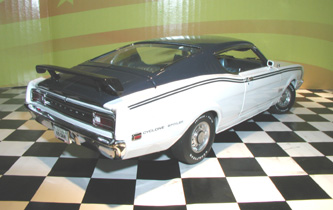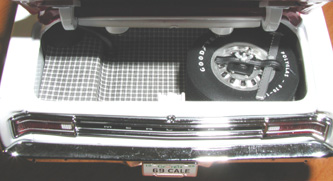 Click here for super-size images of the 290 HP, 351 CID V-8 & interior.
You're looking at what I consider to be the most under-rated & under- appreciated precision 1/24th in the the hobby. If this was manufactured by FM, it probably would have been sold out by now, but the truth is it's BETTER than any FM made today. Manufactured and released by GMP in early 2004, lukewarm bulletin board reviews have held down sales, mostly because of the subject matter and partly because of marketing confusion regarding the real car giveaway contest. I was about to do a sale on the Cyclones until I really gave it a second look, almost a year later. First off, it's one of heaviest 1/24s you'll find. Precision details everywhere. Take a look at the pictures, especially the interior shot. Unless you just can't stand this car, I don't think you can give me a good reason not to add it to your FM/DM collection. Forget the reviews and let me help you make up your own mind. Vinny
Cyclone II background : The blue Gurney cars were meant for the west coast and the red Yarborough cars meant for the east but a great marketing strategy found each car to end up in the others zone. Although production numbers topped just above the 500 mark, only 353 cars actually exist because of the Mercury's slight of hand to mix in a large amount of their standard street Cyclones that were painted the same as these rare Cyclones II's for NASCAR visual count to be homologated into the rule books. Creatively rolled rocker panels to be able to lower the bodies on the Nascar versions and still stay inside the rules.
Mercury claimed 4 NASCAR victories in 1969 with the Cyclone II.
Part #: 8262
Condition: Mint in the Box w/ Papers
Price: 0.00
Status: SOLD! Thanks Richard