PM Heritage Collections






The Heritage Page is our specialty at PhillyMint.com. I select & inspect the pre-owned models that are on the Heritage page to make sure you're offered the "best of show' priced at current market values. That's why we'll work hard to guarantee that your experience with The Heritage Collection will be a positive one. As 1:24 diecast specialists we're committed to presenting a consistent level of mint-in-the-box condition and competitive pricing that you can count on every time you order. Our collectors tell us that their experience with PhillyMint is "unmatched anywhere in the diecast hobby." Heritage Collection models are well cared for, inspected and detailed by Vinny when necessary to bring them to like new-mint condition ready for you to display. Depending on the collector we purchase from, the original boxes may be like new but some boxes may have some shelf or storage wear. We include with most all models their original papers, hang tags &/or color literature.
Welcome to PhillyMint. Quality, Service & Price Unmatched Anywhere in the Diecast Hobby.
---
Holiday 2021 Franklin Mint Collection
Holiday 2021 Danbury Mint Collection
"LoneStar Limited Editions" Franklin & Danbury Mint
"NEW- IN- BOX" FRANKLIN MINT CORVETTES
The Lois-Norman Franklin Mint Collection
"Walt's Harleys" Franklin & Danbury Mint 1:10th scale
"The Brett Estate" Danbury Mint
"The Ron Giannone Estate" Danbury Mint
"Peach State" Collection Danbury & Franklin Mint
The "Bryn Mawr Estate" Franklin & Danbury Mint
"The Myers Estate" Danbury Mint Storage Find
Read more about our "Mint" diecast models.
---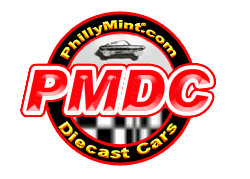 Toll Free:
(800)-227-7301