Vinny's "Used"Cars SPECIAL EDITION
Mint in the Box- Long Term Storage Unit Find.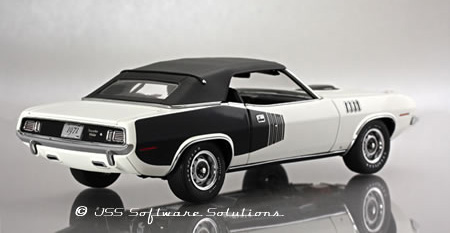 Unfortunately this collection wasn't stored in a climate controlled environment and sustained mild to moderate "paint rash". We define paint rash as factory imperfections in the diecast elements used to create the body that when exposed to high humidity for long periods of time in their original boxes (maybe the styrofoam has something to do with it? ) manifests itself into tiny blisters.
THE GOOD NEWS IS THAT MOST PAINT IMPERFECTIONS SUCH AS THESE REQUIRE HIGH INTENSITY LIGHTING TO SEE IT!
You can find this "diecast chemical compound signature" on virtually any body panel on every diecast model ever produced if you look hard enough. It's looks like a starburst or fan-shaped, raked wet sand effect usually on the hood, roof or trunk lid. Side panels can show these flaws as well but usually in a sporadic pattern. ( that's the best description I can come up with , I'm not a metallurgist). Especially with models that have insufficient primer.....if they used primer at all (West Coast Precision come to mind??). We don't define paint rash as dust or water in the paint lines from the factory as one seller on ebay tries to explain in his listings. None of the models in this collection has broken through mini-cancer or rust blisters which only the truly neglected models will show.
The models from this collection appear to have never been displayed, the paint is glossy, nice boxes, they have all the papers, these are not high mileage ebay models. The models come from the same collector, the box & model condition is pretty consistent throughout each model. Only 1 or 2 old releases stood out as distressed condition.
These can be displayed nicely as "3-footers" & you don't have to concern yourself about paint deterioration for many, many years (if ever in our lifetime) ..if you care for them properly. I have #B11SG66 Franklin Mint 1957 Chevy red hardtops that I purchased new in 1993 with "rash" on the hood and trunk, that's the way they were made from the factory and the models don't look any different today than 20 years ago because they've always been in a closed display case in a spare room, not in the basement or at a U-Store-It facility with no ventilation. Ambitious modelers & do-it-yourselfers can rub out & polish most of these imperfections with polishing compound (Dupont #7), one collector in particular states that when he's through detailing Vinnys Used Cars, the paint looks better new. Only 1 of each listed.
Updated 4/24/14
Danbury Mint
Franklin Mint
------------------------------------------------------------------------------------------------------------------------------
Other Vinny's Used Cars
(These are not a part of the storage-find listings above)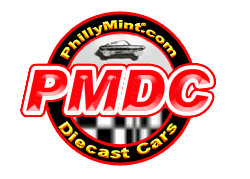 Vinny's Buyers Policy
---
The descriptions used on "Vinny's" are not to be confused with other pages on the PhillyMint site or other diecast sites on the internet. Models on Vinny's that are listed with defects are distressed and sold as-is. Models without defects listed are #1 First Quality New or Mint minus paperwork or when noted, styrofoam box only, missing outside box (FM shipping sleeve).
The descriptions such as mint, excellent; etc, are used to describe the overall condition of the model WITHOUT THE FLAWS spelled out in the condition column. Obviously a model described as mint, with a broken mirror is not mint. But by the same token a model played with in the neighbors sandbox is distressed but not to the same degree. You should have a pretty good idea of the overall condition WITHOUT the defects. ALL "Vinny" SELECTIONS LISTED ARE NON-RETURNABLE and are sold AS IS. We do our best to describe whatever imperfections or defects that may be present. However, if you discover a defect that we may have missed, the model is NOT RETURNABLE-SOLD AS IS, NO EXCEPTIONS, NO UPS DAMAGE CLAIMS. We carefully bubble wrap models that don't have the original box. We then double-box. Models are sold without papers unless noted .
M or MIB-Mint: Like new as if purchased direct from the manufacturer in the year it was released.
E- Excellent: Always cared for and displayed correctly. Covered or protected, no dust, defects or signs of wear. May need light cleaning because of display "film" caused by a non-airtight display. Acceptable to most all collectors and diecast enthusiasts.
G- Good: A former"dust car" that may need cleaning and detailing. Minor repair may have been done correctly. A presentable model with all the correct parts.
D- Distressed: Missing parts or damaged. Some can be displayed, others for parts only.
---
PO Box 157  Glendora, N.J. 08029
Phone:856-228-0152    Fax: 856-228-1528
vinny@phillymint.com


We Ship International