West Coast / 1959 Chevrolet Impala Hardtop / Limited Edition 1,500 / 1:24th Scale
Aspen Green & Cream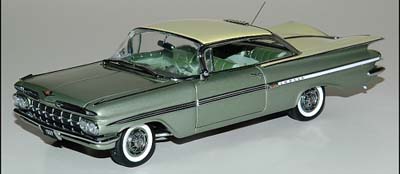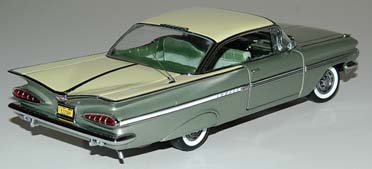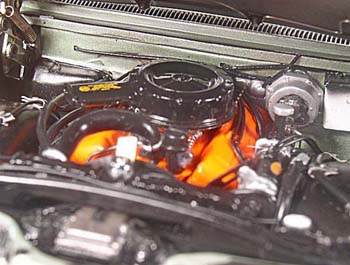 Externally, the models are museum-like in quality. The paint is smooth and evenly applied. The faithfulness of the shape and stance is true to the 1:1. Body fit is excellent. Fender skirts are removable and further broaden the buyer's alternatives. Other differences are noted as well, as they were in the real cars. The convertibles came with rubberized floor coverings while the coupes were outfitted with carpeted floors. Through the years most drop-tops were upgraded to carpeting since original flooring is so hard to come by today, thus making a correct example to replicate even harder to find. Convertibles are outfitted with the 348 cubic inch engine fitted with trips; three two-barrel carburetors. The coupe models will have a four barrel carb 348 mill. Additionally, all convertibles come with power windows and the coupe models are equipped with miniature window cranks.
The model uses a minimum of non-metal parts giving the car a hefty feel. Underneath has working suspension components. Up front, there are coil springs between upper and lower control arms. The steering rods pivot as the tires move up and down. A front-mounted steering shock dampener actually works. In back the suspension uses working shocks, suspension arms on coil springs and a rear torsion bar link. The driveshaft turns and the tire pattern is deep and exceptionally accurate. You will see brake lines and transmission lines fabricated beautifully. The trunk has a realistic removable floor mat showing off the well detailed internal floor, spare and, on the convertibles, the wired power top mechanicals behind the rear seat. Steering on these models is poseable at this time.
The license plate flips down to reveal the fuel filler neck and gas cap. The top and boot fit is highly precise and the interior is marvelous. The patterning of the seat inserts are deeply etched and beautifully trimmed out. The foot pedals are likewise fashioned. The dash and gauges are scaled very well and the visors flip up on the rag top model. The glove box and ash tray open yet stay shut when you want them to. The seat backs fold forward and the doors open on internal hinges and snap shut with a spring-loaded pin and jamb assembly. Realistic hinges are used up front as well and add some great detail to the engine bay. The scissors hinges use genuine springs and come off looking absolutely authentic. The engine carries every sort of wire, cable and hose you would see under a real Impala's hood and the model replicates hose harnesses, radiator warning labels, fuel lines and throttle springs.
Part #: WC4
Condition:
Price: $0.00
Status: Out of Stock