West Coast Precision 1:24 Diecast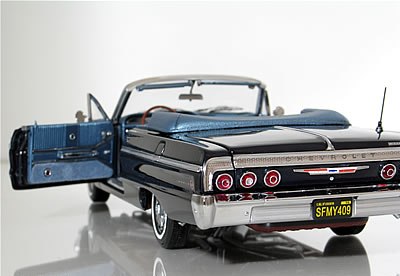 Check out our 100% Positive Ebay feedback!
The cars of West Coast have up to 370 hand assembled parts (wow, that's more than the mint's) and some come with two sets of magnetic hub caps, including removable fender skirts on some models. Fits all Franklin and Danbury Mint precision specs, but collectors of 1:24 take note: Many of these are sold out from "Brian's" West Coast warehouse and will never be produced again and I may never be able to re-stock. Add these to your collection now before it's too late! These are future, investment quality collectibles!
| | | | | | |
| --- | --- | --- | --- | --- | --- |
| | Year | Make | Model | Color | Part# |
| | 1959 | Chevy | Impala Hardtop Limited Edition | Aspen Green & Cream | WC4 |
| | 1959 | Chevy | Sedan Delivery Limited Edition | Black | WC70 |
| | 1959 | Chevy | El Camino Limited Edition | Red | WC50 |
| | 1964 | Chevy | Impala Convertible Limited Edition | Almond Fawn | WC42 |
| | 1964 | Chevy | Impala Convertible Limited Edition | Saddle Tan | WC37 |
| | 1964 | Chevy | Impala Hardtop Limited Edition | Satin Silver | WC18 |
| | 1964 | Chevy | Impala Hardtop Limited Edition | Black w/ Silver Interior | WC19 |
| | 1964 | Chevy | Impala Hardtop Limited Edition | Meadow Green | WC30 |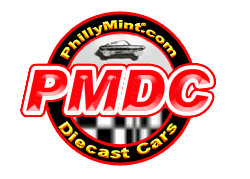 PO Box 157  Glendora, N.J. 08029
Phone:856-228-0152    Fax: 856-228-1528
vinny@phillymint.com


We Ship International