Unique Replicas 1:24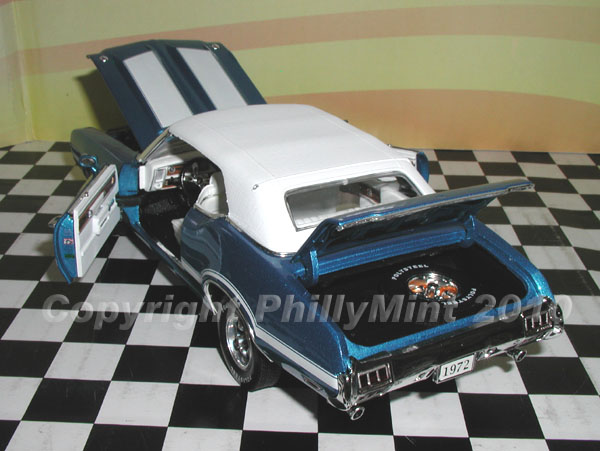 Looking for a line of 1:24s to compliment your FM-DM collection? You've just found it with Unique Replicas. Detail, style and value, a winning combination especially now that Franklin and Danbury Mint no longer produce diecast cars. Unique Replicas Dodge Chargers & Chevrolet Camaro set a new standard in 1:24th scale. Don't confuse these with swap meet "tray" cars. Unique Replicas releases can be shown side by side with your DM & FM collection without hesitation. They have many precision features like working suspensions, carpeting, correct interiors, super glossy finish, foil trim. I'm sure you'll agree that Unique Replicas are an excellent find in 1:24 scale.
search tips
Click on an image or model links below for more info, reviews, and pricing.
| | | | | | |
| --- | --- | --- | --- | --- | --- |
| | Year | Make | Model | Color | Part# |
| | 1957 | Chevy | Bel Air Nomad Ambulance | Red & White | 18700 |
| | 1957 | Chevy | Bel Air Convertible - 50th Anniversary Edition - Ltd. Ed. 1,957 | Brushed Aluminum | 01957 |
| | 1969 | Chevy | Camaro Z28 Hardtop | Hugger Orange | 18685 |
| | 1969 | Chevy | Camaro Z28 Hardtop | Black | 18686 |
| | 1969 | Chevy | Camaro Z28 Hardtop | Blue | 18687 |
| | 1969 | Chevy | Camaro Z28 Hardtop | Yellow | 18688 |
| | 1969 | Chevy | Camaro SS396 Convertible | White | 18680 |
| | 1969 | Chevy | Camaro SS396 Convertible | Silver | 18681 |
| | 1969 | Chevy | Camaro SS396 Convertible | Hugger Orange | 18682 |
| | 1969 | Chevy | Camaro SS396 Convertible | Black | 18683 |
| | 1970 | Chevy | Chevelle SS454 Hardtop | Blue w/ White stripe | 18641 |
| | 1970 | Chevy | Chevelle SS454 Hardtop | Red w/ White stripe | 18642 |
| | 1960 | Divco | Dividend Step Van -"Tri-City Delivery" | White & Red | 18530 |
| | 1960 | Divco | Dividend Step Van UPS type International Delivery | Parcel Delivery Van | 18531 |
| | 1970 | Dodge | Hemi Charger R/T | Bronze | 18690 |
| | 1970 | Dodge | Hemi Charger R/T | Cream | 18693 |
| | 1950 | Ford | Step Van - Fire Department | Red | 18570 |
| | 1950 | Ford | Step Van - Police Wagon | Black & White | 18573 |
| | 1950 | Ford | Step Van - Milk Truck Divco Style | White & Green | 18572 |
| | 1952 | Ford | Pick-UP | Solid Black | 18551 |
| | 1952 | Ford | Pick-UP | White | 18555 |
| | 1969 | Ford | Mustang Boss 429 | Tampico Yellow | 18645 |
| | 1969 | Ford | Mustang Boss 429 | Acapuico Blue | 18646 |
| | 1969 | Ford | Mustang Boss 429 | Creamy White | 18648 |
| | - | - | Freightliner MT-55 1:32 scale | White | 18532 |
| | 1971 | Oldsmobile | 442 Coupe | Black w/ White Interior | 18705 |
| | 1972 | Oldsmobile | 442 Convertible | Medium Blue Metallic w/ Gold Wheels | 18695 |
| | 1967 | Pontiac | GTO Hardtop | Montreux Blue | 18661 |
| | 1967 | Pontiac | GTO Hardtop | Signet Gold | 18663 |
| | 1967 | Pontiac | GTO Convertible | Fathom Blue | 18665 |
| | 1967 | Pontiac | GTO Convertible | Montego Cream | 18667 |
| | 1937 | Studebaker | Woody Wagon | Burgundy | 18596 |
| | 1957 | Studebaker | Hearse Wagon With Flowers & Casket | Black | 18598 |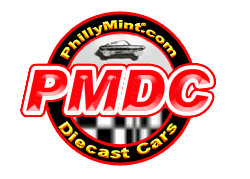 PO Box 157  Glendora, N.J. 08029
Phone:856-228-0152    Fax: 856-227-5850
vinny@phillymint.com


We Ship International
<![if !supportEmptyParas]> <![endif]>