Drag Racing Collectibles 1:24
These classic Pro Stocks are the perfect fit in your 1/24th scale collection. Realistic proportions, designed by real drag racing drivers and enthusiasts. Hoods lift off to reveal realistic detailed engine bay. Doors and trunk do not open. However at this price you'll be more than satisfied. Some limited editions as low as 200 units.
search tips
Click on an image or model links below for more info, reviews, and pricing.
| | | | | | |
| --- | --- | --- | --- | --- | --- |
| | Year | Make | Model | Color | Part # |
| | 1968 | Chevrolet | Pro/Stock Camaro "Mike Fons" - Ltd. Ed. 750 | Red | MF207 |
| | 1968 | Chevrolet | Pro/Stock Camaro "MIMI" - Ltd. Ed. 750 | White | BB208 |
| | 1968 | Chevrolet | Pro/Stock Camaro "Grumpy's Toy" - Ltd. Ed. 7,000 | White | GT0303 |
| | 1968 | Chevrolet | Camaro SSE "Groovin" - Ltd. Ed. 200 | Blue | GR608 |
| | 1968 | Chevrolet | Camaro X/SS "Blood, Sweat & Gears" - Ltd. Ed. 200 | Blue & Yellow | BG508 |
| | 1968 | Chevrolet | Camaro A/MP "The Patriot" | White, Red, & Blue | TP408 |
| | 1969 | Chevrolet | Pro/Stock Camaro "Rat Pack" 1 - Ltd. Ed. 3,000 | Green | RPO205 |
| | 1972 | Plymouth | Duster Sox & Martin - Limited Edition | White, Red, & Blue | SM200501 |
| | 1972 | Plymouth | Pro/Stock Duster "Mopar Missile" - Ltd. Ed. 8,500 | Black | MM200502 |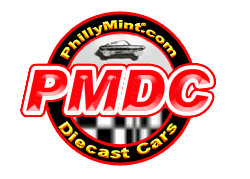 PO Box 157  Glendora, N.J. 08029
Phone:856-228-0152    Fax: 856-228-1528
vinny@phillymint.com


We Ship International
<![if !supportEmptyParas]> <![endif]>